We are currently having phone issues due to changing provider contracts. Apologies to our clients for any inconvenience. Please call us on 07483 150242 instead or email us at marchmontphysio@gmail.com. Thank you for your understanding.
– The MPC team
Client Testimonials
As someone who has a sedentary occupation and sits for long stints at a computer screen both at home and in the office, I have benefited tremendously from treatment at Marchmont Physiotherapy Clinic. I have received advice on posture, good working practices and how to create a home office environment that is ergonomic so as to prevent repetitive strain injuries and other musculoskeletal disorders which people in my profession are prone to. I cannot recommend this practice highly enough.
Karen C.
Back Pain Treatment
Providing truly in-depth physiotherapy which I've not encountered elsewhere, Man Yuen's knowledge is mind-blowing and her treatments incredibly effective. Over the last year I've had a biceps reconstruction and hernia repair, both of which left me with soft-tissue and postural grievances from surgery and recovery. Man Yuen's subsequent scar tissue work not only provided huge relief from pain and tension but also resited the tendons in my arm, allowing it to once more work efficiently. I cannot recommend her highly enough.
Graham L.
Sport Injury Treatment
I found this clinic excellent. They replied very quickly from the first phone call. I had sciatica and found my physio, Clare, to be on top of all my treatment and her assessment on how many sessions I needed wa spot on. Clare is friendly and professional. My sciatica nad whole of my back has benefited from my treatment here. I highly recommended it.
XX x.
Sciatica Treatment
I'm very happy to recommend Melanie and Marchmont Physiotherapy. I love her straight forward approach to physiotherapy. She looks after me and gives the best advice and treatment. I have been using the practise for many years when needed.
James M.
Various Treatments
Man Yuen was great at getting to the source of the problem. I had a neck injury, and after 3 visits I have seen a major improvements. Very friendly, knowledgeable and professional dealing with my issues. Highly recommend.
Addie B.
I have suffered with lower back pain over the years, lack of exercise and inappropriate lifting I suppose. I was persuaded to seek help and saw Melanie from Marchmont Clinic. When I sat down for the initial assessment Melanie said "I saw you walk in, I can help". After two sessions I was sent away with exercises to do and have tried to do these ever since. My back has been fine and Melanie's skill and attention, along with the explanation of what was wrong and what she did to put it right has stayed with me. I am so grateful to the Clinic for giving me back the ability to carry on without pain.
Stuart B.
I have had a lot of treatment with you over the years Always helpful and beneficial to my back, I have had arthritis for a long time but sciatica was also diagnosed which explained much of the pain. Always a pleasure to visit and I felt better after treatment. Everyone is very caring and kind
Denise F.
Various Treatments
I rate this clinic five stars and would recommend. I had problems with knee pain. I quickly secured an appointment and was treated with exercises to carry out between appointments. My knee improved greatly and I have had no future pain since. Very successful.
Anne D.
Knee Pain
If you have ever uttered the phrase : « Oh, what a relief! » you have just emerged from a session at Marchmont Physiotherapy clinic! It's a center that « keeps on giving » in terms of movement, pain relief and confidence. Long may they flourish!
A.D. EASTLOTHIAN
Blog Posts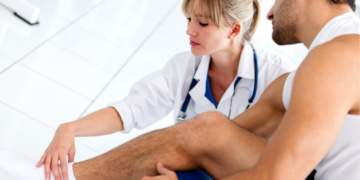 10/02/2021
Nerve tension is pain that occurs because a nerve is being compressed or stuck in its surrounding tissue which prevents...
Read Post 05/01/2016
Physical therapists do a lot more than just stretch or strengthen weak muscles after an injury or surgery. They are...
Read Post 04/01/2016
Remaining in a seated position for extended periods of time can restrict blood flow to your lower extremities, causing...
Read Post